With healthcare organizations under pressure, a struggle for resources, and tighter budgets, nurses often report feeling stunted or neglected when it comes to their career development. Career progression in this profession will largely depend on adopting a proactive approach, improving your education, and putting yourself out there in the market. Therefore, reading our tips for nurses in the UAE is maybe what you need right now to advance in your nursing career!
In this article, we are going to give you some tips for nurses in the UAE to help you get the opportunities you deserve, to achieve progress in your nursing role, and as a result, accomplish what you want in your career. Here is a list of the contents involved:
Recommendations for nurses in the UAE to progress their career
What is the focus of a Ph.D. in nursing degree?
What is the focus of a DNP degree?
Advancement opportunities for nurses with doctorates
How can Connect Health help you find a nursing job in the UAE?
1. Recommendations for nurses in the UAE to progress their career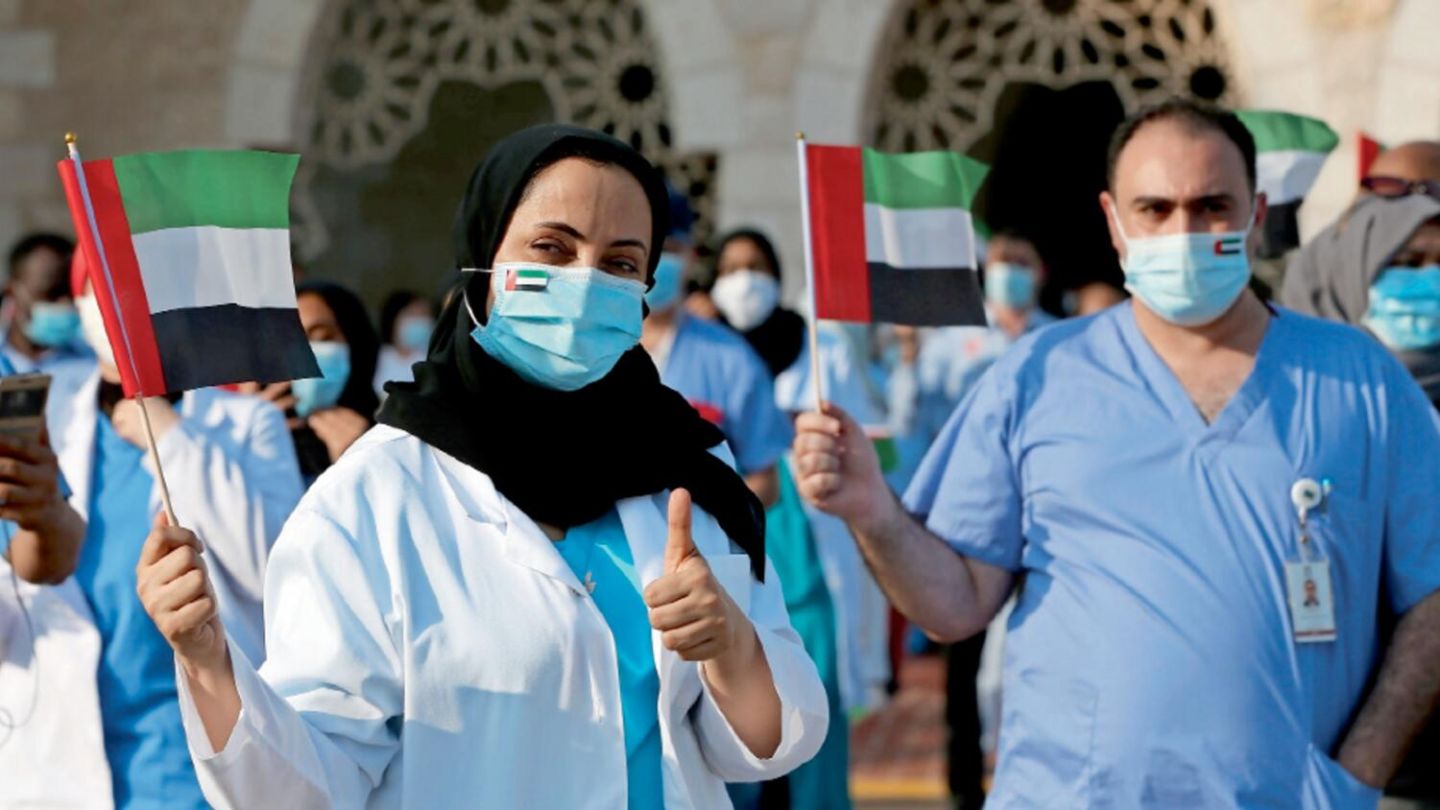 1.1 Take responsibility and ownership of your career
This is among the most important tips for a nurse. If you find yourself feeling under challenge, stuck in a rut, or craving change, you need to take responsibility and ownership of your nursing career. Avoid the temptation to hope things may just change by themselves, do not wait for opportunities to fall into your lap, instead, seek them actively. To start adopting a more proactive approach, you should:
Do things that force you to come out of your comfort zone.
Start approaching important people you do not know.
Always ask for what you want.
Be on the lookout for opportunities.
Do your research.
Be comfortable with rejection and getting turned down or told no.
1.2 Schedule time to think about your career
Schedule time frequently to think about your career, possible options, and your aspirations and goals. Even if you are happy where you are at the moment, it does not hurt to see what is out there, explore what courses you could take, how to improve your skills, what qualifications you need to have, or perhaps just think about what you would like to be professionally wise in two years. Each time you do this, we recommend you keep a diary where you can write down ideas and set yourself at least one goal with a set deadline.
1.3 Gather information
Take time to research how you would like to continue with your career, and the types of positions you are interested in. This is an important part of planning your career. You can do this by searching on the internet, reading medical journals, joining healthcare networks, speaking to your employer, and looking for initiatives, among others.
1.4 Take into consideration your country's job market
Make sure you research the nursing market in your country. The good news is for most countries the nursing job market is rising. You can do this by studying vacancies on local nursing websites, talking to your employer, getting reach out to nursing agencies, or taking a look at the national health organization webpage of your country. We recommend you try to identify:
What nursing jobs are out there at the level you want?
Are those nursing jobs near me?
What sort of skills, experience, or qualifications do you need for those positions?
1.5 Networking
Nowadays, networking is probably one of the most important parts of career progression. So have a think about and research how you can do this. We recommend you go to events, job fairs, local groups, and conferences. You may find that networking is not as hard as you think, especially because people in those events are also looking to network.
Take advantage of the internet too. Create a LinkedIn account and reach out to other medical professionals and employers. You can also join RCN campaigns, RCN forums, RCN Twitter pages, and RCN Facebook pages. When networking with others, make sure you save their contact details and ask them if you can get in touch in the future.
1.6 Schedule informal visits
This nursing tip is often overlooked. It might not have occurred to you that you could arrange an informal visit with a possible employer, but this practice is very common nowadays within the healthcare industry. It is a great way to evaluate a new workplace environment and assess whether you think that job would be right for you. This is also another great opportunity to do networking, ask questions, learn something, and make a good impression.
Remember that even though it is an "informal" visit, the employer will be interviewing you and watching carefully to see how you conduct yourself in the workplace. Simple things like holding the door open for others, thanking others for showing you around, and smiling at patients can make a big difference. We recommend you to be specific about which particular area you want to visit to not waste time and prepare in advance some points to talk about or questions to ask during your visit.
1.7 Volunteering
Pressures in the workplace due to the COVID-19 pandemic such as service demands, lack of funding, lack of time, and staffing issues could mean that progression opportunities are scarce. By volunteering, you could either improve existing skills or learn new ones. At the same time, it will give you an advantage when it comes to getting a job because employers prefer to hire from within. Furthermore, it is also a great way to find out if you feel suited to a particular environment while at the same time you will be helping people who need it most.
1.8 Get in touch with prospective employers
If you see a job that seems interesting to you, contact the employer right away and ask if you can arrange an informal visit or interview to discuss the role. This is a great way to introduce yourself, stand out from the competition, find out more about the position, and assess whether or not it would be right for you.
If you are worried you might not have what it takes to get the position, contact the employer for further advice. Upon speaking to a prospective employer, you might conclude that you are more than qualified to apply and get that nursing. Otherwise, you could use this opportunity to learn about what steps or actions you could take to improve your skills and get the job next time.
Bear in mind some healthcare employers will be more helpful than others or have more time to help you than others so do not be deterred if they do not want to speak to you, and keep trying elsewhere.
1.9 Use your peers and colleagues
Seek advice from your peers and colleagues. This could be as simple as asking someone if they can answer some questions, or if they have some time to give you any career tips or advice. When talking to your superiors, ask them what they did to get where they are now, what resources they found helpful, if they have any contacts that they could put you in touch with, and what courses or education they took to be where they are.
1.10 Join professional forums
One of the best nursing tips that we can give you is this. Members of professional forums are more likely to be up to date with the latest initiatives and news initiatives; either within the medical industry in general, or within a specific field or specialty. The RCN has a wide range of professional networks and forums and which you can join for free. Once you have signed up, you can join their Facebook or Telegram groups and connect with other healthcare professionals in the nursing field of choice. Being a member of a forum can allow you to:
Stay up to date
Engage and network with other healthcare professionals
Be inspired and motivated
Learn about new and exciting opportunities, events, initiatives, courses, and job vacancies.
It will also demonstrate enthusiasm for your area and a proactive approach to professional development, which employers love
1.11 Earn a doctoral degree
Currently, there are two types of doctoral degrees when it comes to nursing. The first is the DNP degree, which stands for doctor of nursing practice. This degree is centered around how diseases progress from a clinical perspective. The exact curriculum of a DNP program will vary depending on the school and chosen specialization. However, it will almost always include disease treatment, advanced practice, leadership, diagnostics, and team management.
DNP graduates have the advantage of being able to become independent practitioners. There are also strong links between the DNP and other medical fields such as medicine, psychology, and dentistry.
The second doctoral degree that you can get is a Ph.D. in nursing, which provides training and education mostly focused on scholarly research. Contrary to the DNP degree, this degree is for nurses who want to focus their careers on clinical research.
2. What is the focus of a Ph.D. in nursing degree?
In addition to the topics listed above, the curriculum of a Ph.D nursing program includes courses in physical and social sciences, critical thinking, lab management, communication, clinical trials, and leadership. Subsequently, for nurses in the UAE looking for leadership roles in fields focused on clinical research, this degree is almost a prerequisite to qualify for such positions.
The average annual income for nurses with a Ph.D. is about $99,000, which is around $47.60 per hour. The bottom 10 percent earns around $78,600, while the top 10 percent can reach a salary as high as $158,400 per year. A nurse with a Ph.D. in the UAE earns on average AED 209,200 per year.
3. What is the focus of a DNP degree?
Most nurses in the UAE choose to earn a Doctor of Nursing Practice (DNP) to boost their training and credentials in preparation for leadership roles in medical settings. The DNP curriculum typically includes pharmacology, advanced health assessments, pathophysiology, and other courses related to each NP specialty.
The average annual income for nurses with a DNP is about $105,000, which is around $48.77 per hour. The bottom 10 percent earns around $81,500, while the top 10 percent can reach a salary as high as $172,300 per year. A nurse with a DNP in the UAE earns on average AED 213,000 per year.
4. Advancement opportunities for nurses with doctorates
Nurses in the UAE who earn a doctoral degree are qualified for these positions:
Health policy analyst: This role is focused on research topics related to the impact of existing government policy on medical providers and the medical industry. Nonprofit organizations, government agencies, and community groups employ health policy analysts.
Nurse educator: nurses in this position are charged with preparing the future generation of nurses and nurse leaders. They contribute to the design of nursing programs. Nurse educators work in classrooms as well as clinical settings, including hospitals, clinics, and nursing homes.
Advanced clinical educator: these nurses share practical knowledge in clinical settings with nursing professionals who work in specialized areas. They also work in classrooms and healthcare settings interacting with nurses, public healthcare workers, clinicians in training, and patients.
Chief nursing officer: CNOs are responsible for all nursing activities in a healthcare facility. They ensure that organizations comply with all regulations and standards related to nursing care. Chief nursing officers usually work with healthcare facilities, government agencies, and community groups.
5. How can Connect Health help you find a nursing job in the UAE?
If you are looking for nursing jobs in Dubai, here at Connect Health we can help you find the perfect job for you. You can sign up and apply for nursing jobs on our webpage. Make sure to read the requirements of the nursing job carefully before applying for any vacancy.
As a result, if you are looking for a nurse in the UAE, we can help you find the best candidates for your business. We have an extensive database of nurses in the UAE where you can find the perfect fit for your organization. In addition, you can post a job opening on our webpage, too.
Would you like to contact Connect Health to obtain more information about nursing vacancies in the UAE? Contact us at info@connecthealth.ae or call us at +971 433 166 88 to talk to one of our agents who will gladly answer all of your questions.
Furthermore, feel free to visit thetalentpoint.com to apply for different nursing job openings. CVs and personal documentation sent to contact@thetalentpoint.com are not currently stored.