The healthcare industry has seen many changes during the past few years. This is due to the implementation of healthcare technology to improve some of the processes and management of information. The impact technology has caused in healthcare has been so enormous that it is now an integral part of many practices of medicine.
In this article, we are going to point out the contribution that digital technology and innovation have brought to healthcare. We have seen a great improvement in many areas and there are still many more to come. Let us observe:
Why is technology a powerful tool for the healthcare industry?
What are the top technology trends and innovations in health care?
How has technology impacted the health care industry?
Which health care areas have been improved with digital technology?
How can Connect Health help you?
1. Why is technology a powerful tool for the healthcare industry?
Technology plays a crucial role in many aspects of our lives. From the simplest aspects such as using our cellphones to communicate with relatives living in another country up to marvelous engineering achievements such as space programs and artificial intelligence.
Since the implementation of technology greatly improves many processes and areas, the healthcare industry could not be left out. For this reason, we have seen the rise of something named healthcare technology. This term refers to the trends and innovations that have been implemented to improve the practice and processes of medicine and other related areas.
1.1 What is the importance of healthcare technology?
Doctors, nurses, and more practitioners have seen an improvement in many areas of their fields thanks to technology. And, not only has medicine seen changes, but the improvements have been in human resources management, patient care, and many more.
Thus, the impact of technology in healthcare has been massive and welcomed by all of those that participate in it.
Therefore, healthcare technology is important because it has made the following positive changes:
Improved operational efficiency reducing time and expenses
It gave rise to the creation of healthcare technology jobs, thus many more people can participate in the industry and contribute to it.
It allowed reinforcing the standards in patient care
Enhanced the entire experience for both medical practitioners and patients
It encouraged the creation of better diagnostic tools
Improved current treatments to cutting-edge ones
It promoted a myriad of minimally-invasive procedures
2. What are the top technology trends and innovations in health care?
When we start learning about healthcare technology, we have to consider which trends and innovations have impacted the industry. This is important because this will allow us to have a better understanding of how we can take advantage of all of these in our healthcare careers. This is crucial for leaders in the industry that want to know how to apply these trends. If you are in a top position in the healthcare industry, you should know how technology can make a big difference in your practice.
Some of the top trends in healthcare technology are the following:
2.1 Improved access to data and medical information
The digital revolution has brought many benefits to the healthcare industry. One of the main trends and innovations in this sector is improved access to data and medical information. Thanks to the implementation of digital technology, the healthcare industry improved its ability to store and access data. The implementation of search features and data capture systems, has made it easier to share information and analysis of data in the sector.
This means that practitioners can now have an easier way to access patient data from anywhere. Moreover, they can stay on top of trends and use the best techniques to offer better care. With this technology, they can do the following:
Compare patient data with the one from other patients to determine the better treatment
Identify risk factors for patients in comparison with the data stored
Reduce costs for patients
2.2 Better lines of communication
Communication between practitioners had always been a challenge. Years ago they used beepers to communicate but thanks to digital technology they have now more options. Consequently, with improved communication between practitioners, they can also have better lines of communication with patients.
Thanks to email, smartphones, apps, text messaging, and social media, healthcare professionals can be reached out easily by their patients and vice versa. Another trend that is now popular among physicians is that they can do their own webinars, presentations, and videos, and use their social media to teach, spread awareness and gain more clients. Without limitation to geographic borders.
2.3 Automated processes
One of the greatest advantages of technology is that it brings automation. Healthcare centers tend to manage a lot of personnel and receive thousands of patients. So, it was important to know how to handle all of this efficiently. For this reason, with the implementation of technological innovation, they were able to automate the following:
Administration processes concerning medical and non-medical procedures
Improved workflows
Save time and resources by making processes more efficient
Decrease the burden on the administrative staff so they can offer a better service
Made easier processes for patients such as filling out forms online
Automated training and learning for new hires and current employees
2.4 Online education
The availability of online education has allowed many people to study for a career in this the healthcare industry. Moreover, those that already work in the industry can improve their knowledge by taking online courses and specializations.
Thus, one of the better innovations technology has given in this industry has been e-learning. Those professionals that have developed their careers and are looking for health tech jobs can do it by studying and pursuing their interests using online education platforms. Another area in which technology has impacted positively is in jobs in many fields of the industry.
3. How has technology impacted the health care industry?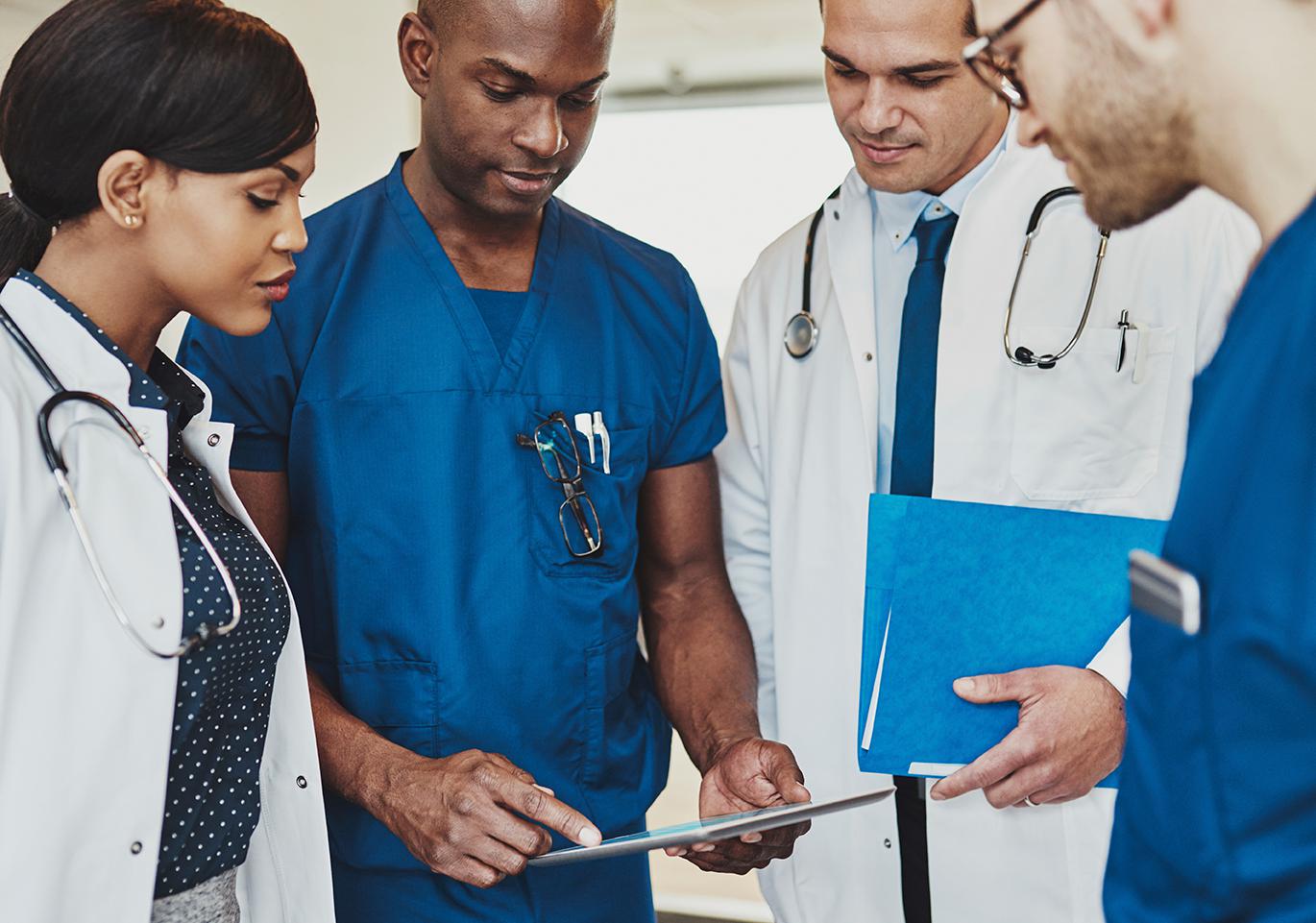 Technology can amaze us since it can improve our lives in so many ways. Healthcare technology has done the same for the industry since it has had a positive impact in many areas.
Some of the most prominent impacts of technology on the health care industry are the following:
3.1 Cloud storage
One of the greatest improvements in healthcare technology is the implementation of cloud storage in medical centers. In healthcare, there is a lot of documentation and paperwork that has to be processed. However, when it comes to managing all of this information, can be difficult.
For this reason, cloud storage was the perfect solution for accessing data and improving efficiency. All of this while at the same time reducing wasting. Thus, cloud services are highly valuable for medical services and the healthcare industry in general. From medical research to pharmaceutical formulations, almost any sector can take advantage of this easy access to information. Consequently, with cloud services, the healthcare industry is able to get a cost-effective storage solution. It not only offers easy access but also backup and recovery features, without having to invest in additional hardware.
3.2 Better patient care
Patients are also an important part of the healthcare industry. Therefore, all the efforts of technology were not only aimed at physicians but at their patients too. There is a variety of potent tools that are used nowadays to improve the service to patients. With access to the medical histories of all patients, physicians can identify the best treatment possible and make the most considered medical decision.
Some of the other areas that were improved thanks to technology concerning patient care are the following:
Radio-frequency identification allows knowing information about the patient, such as temperature and vital signs.
3D printing is one of the latest innovations that help in many areas such as prosthetics, dental devices, and more.
Virtual reality is gaining popularity as a tool to ease mental illness symptoms related to depression and anxiety
With augmented reality, surgeons can work on complex operations giving more quality of life to their patients
3.3 Centralized repository
With the implementation of centralized repositories, it was necessary to create healthcare technology jobs that could deal with them. Medical coders may be an essential part of this area since they take care of reviewing documents and translating them into universal codes. Which are included in repositories.
4. Which health care areas have been improved with digital technology?
Healthcare technology has impacted several areas of the industry. Some of the most prominent ones are the following:
4.1 Big data
The term big data resonates widely in many industries. Simply put, this term refers to the collection and generation of huge amounts of data from several sources. Thus, in a healthcare center, you get information about the patients, treatments, and much more. Therefore, since it is a huge amount of sensitive information, it is important to know how to deal with it. Healthcare technology has made a huge improvement in this area since there are many options for managing big data efficiently. Moreover, it allows for gathering all of this amount of information in less time.
4.2 Health records
Health records are highly important documents in medicine where physicians write down all the information about the patient, treatment, and more. Long ago, healthcare centers had to manage these records by moving large paper files from one department to another.
This was a big problem since oftentimes the patients' information could go missing or got damaged. And, when there was an emergency, it was hard to find the necessary records to provide an effective solution. Therefore, with the implementation of electronic health records, all of these problems were solved. The digitalization of health records even allowed for the creation of health tech jobs such as medical data entry.
4.3 Telemedicine
Another rising technological area in healthcare is telemedicine. With the use of video calls, instant messaging, and technological tools, physicians can provide medical care to patients located in other places. This was a great benefit for those living in rural places or for those places that lacked specialized healthcare providers. In addition to being a cost-effective solution, it reduces risk and time when it comes to patient care.
4.4 Mobile app technology
Another area that has gained attention with the digital revolution is mobile app technology. The development of health apps has been a great solution for patients with chronic illnesses, and those that need constant monitoring of their disease.
Patients can access many features such as test results, medical information, receive reminders about medical check-ups, and more. Consequently, healthcare providers can check the urgent information they need about the patient. One of the improvements in technology has been the creation of jobs that can boost the industry. And health app development has definitely been one of them.
5. How can Connect Health help you?
On Connect Health, we understand the importance that healthcare technology has given to the medical practice. For this reason, we want to help all of those professionals working in this field interested in developing their careers to find their jobs. We can help you find the best job openings that can give you a generous salary and a high quality of life. You can contact us to learn more about our services.
Moreover, we want to assist those medical facilities that are looking for top-talent healthcare professionals interested in working for them. Even if you are planning to hire top executives we can assist you. With the use of the best technology and the right staff, you can take your healthcare center on the road to success.
Are you interested in contacting us to learn more about how technology is affecting the health care industry? You can call us at +971 43 316 688 or send us an email at info@connecthealth.ae. We have a team of representatives readily available to help you and solve your inquiries.
Moreover, if you are in your search for your dream job, you can visit thetalentpoint.com. Here you can find the latest job vacancies in health care and more industries. You can also send your CV to contact@thetalentpoint.com. You have nothing to worry about, we will not store your personal information.