A healthcare career can be a fulfilling choice for people who love helping others and who are interested in technology, science, medicine, and math. But while these jobs can pay very well and are in high demand, they also involve a lot of stress. Burnout is certainly a risk in any health career and the educational requirements can be costly and time-consuming.
In this article, we are going to take a look at the most important factors to consider before choosing a healthcare career. These factors will help you determine whether these professions are a good fit for you. Here is a list of the contents involved:
Your motivation to choose a healthcare career
Education
Financial and commitment implications
Personal skills and strengths
Salary
Job opportunities
Impact on your family and personal life
The most suitable healthcare career for you
How can Connect Health help you?
1. Your motivation to choose a healthcare career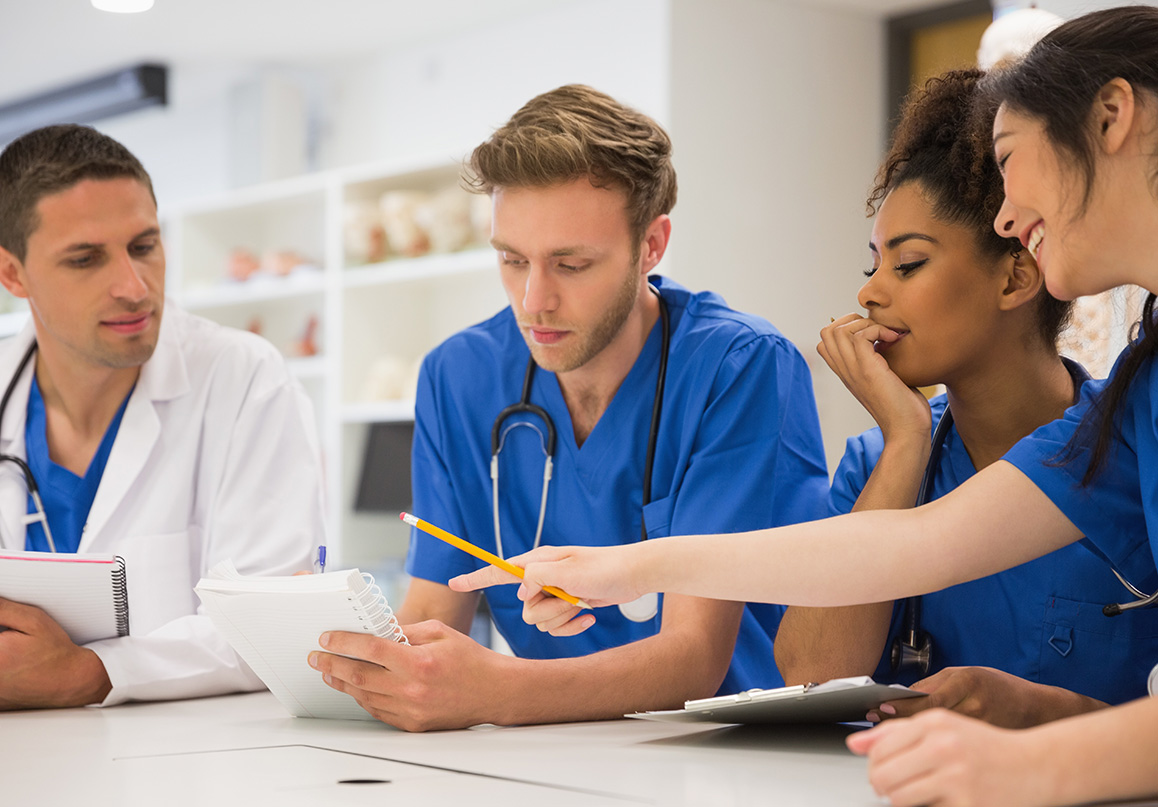 There are many reasons for taking a healthcare path, one being the obvious financial aspect of the profession along with the social prestige that comes with some roles. While the latter are both clear reasons, you should know that it is risky to pursue a healthcare job if those are your main motivations.
Your first and main motivation should be a strong desire to help others and whether you want to commit to serving others for the rest of your life. This is due to the fact that the main focus of the healthcare sector is improving and saving lives, so anybody studying a healthcare career must be passionate about helping others and making a difference in this way.
All healthcare occupations come with a high level of stress and a great deal of hard work and commitment are part of the job. A genuine interest in helping others will enable you to see past the high stress and demanding working hours giving you a highly fulfilling and satisfying career.
Another important point to make is that your desire to pursue a healthcare career should be your own. It is awesome if your family and friends support your decision, but the decision needs to be yours, so you are not doing it to make other people proud or happy.
2. Education
Entering the medical field requires more often than not, a long academic path. With 13 years being the average time a medical student spends between school and residencies in order to become a doctor, 9 years being the average time a nurse student spends to become a nurse practitioner (NP), and with most healthcare positions taking between 4 and 8 years, the time it takes to become capable to get into a rewarding position must be taken into account.
It is important to have an idea about the training, degrees, and diplomas that are required for the healthcare profession of choice. Students who want to specialize will usually be in their 30s before they begin practicing their careers as licensed professionals.
Even then, these healthcare professionals must continually learn, evolving their knowledge and practice as technology advances the field. When working as a healthcare professional, the learning process never stops. A culture of life-long learning and training is inherent in healthcare roles. Having an outstanding ability to comprehend and retain large amounts of information is crucial for any healthcare profession.
For this reason, when considering a profession in healthcare you should ask yourself if you have what it takes to keep up with the continual developments in your field.
3. Financial and commitment implications
Students who go into a healthcare career most of the time need to attend medical school or other training programs prior to getting a job in the field. Because of the extra training, students often accrue a debt of AED 100,000 or more depending on the country. This number is expected to increase with the annual increment in college programs.
Training for a medical position is costly, but there is also good news: there are a variety of loan programs, scholarships, and grants to help ease the cost of schooling, especially for great students. Most students will still incur debt, however. Therefore, your grades in high school and through your health career could determine how much debt you end up owning.
As mentioned, getting the education to become a specialist as a high-level nurse or a specialized physician can be very expensive. Not everyone can afford that o want to wait 5 or 10 years working to be able to afford a degree, but there is nothing to worry about. There are plenty of other options in the healthcare field. On the other hand, people who are determined to get an expensive training or degree should plan to save money or make a detailed plan to pay the debt in the future.
In addition to being financially demanding, a healthcare degree requires a huge amount of hard work and dedication. Having assessed your motivations for pursuing a profession in healthcare, do you have the determination required to see your degree course through to the end?
4. Personal skills and strengths
Communication and teamwork are integral skills in any healthcare environment. You will have face-to-face direct contact with patients every day as well as with other healthcare professionals. If your patient requires the expertise of a different healthcare professional, you must work together to provide the best possible patient care. Therefore, effective communication skills are essential in achieving this.
In addition, you must be able to adapt your communication and listening skills accordingly, showing understanding and empathy towards patients when needed while dealing professionally with colleagues.
You should also take into consideration your work ethic and ability to work well under stressful scenarios and keep your head clear in difficult situations. Your patients will put their trust in you and your expertise at a time when they are vulnerable. Moreover, you will have to deal with hectic working schedules and demonstrate an ability to organize yourself appropriately.
Additionally, with the development of technology, the healthcare field, just like other fields, also changes constantly. As a result, flexibility is also an important trait that a person who wants to get into a healthcare career should have.
To conclude this segment, we are going to describe briefly other skills that are necessary for any healthcare career:
Decision-making. As a healthcare professional you will encounter emergency situations that will require you to make critical decisions as quickly and efficiently as possible.
Detail oriented. Healthcare workers need to be detail-oriented people. Any mistake can have disastrous consequences in a hospital.
Physical stamina. Healthcare professionals work most of the time on their feet. In addition, they sometimes need to bend, stoop, kneel and stand for long periods.
Compassion. Helping people should be something fulfilling for every healthcare professional. When a patient is in pain, the love, empathy, and care of a healthcare worker are always needed.
5. Salary
Generally speaking, medical field jobs are very lucrative, and there are bigger changes in career progress as well. Still, it is important to look at all the possible prospects for a particular healthcare role. Different lines of the healthcare sector offer different annual salaries and job security. Balancing all of the possible factors that will define your future income will allow you to predict your future financial status and take a better decision when choosing a career path.
Salary is often one of the most important factors in a student's decision to enter the medical field. With large salaries available in some healthcare jobs, it is easy to understand why. Nurse practitioners can easily make over AED 100,000 a year, surgeons and physicians can make over AED 200,000, and other specialties can earn more, even at the beginning of their careers.
However, there are some factors that can influence the salary of a dentist, physician, or another medical professional. This includes education level, the cost of living in a certain region, accreditation, licensing, and previous work experience. It is also important to know that many students enter the workforce with debt. This means that a considerable proportion of their salary goes towards paying off the debt they owe.
6. Job opportunities
Job opportunities in the healthcare sector abound. Employment in healthcare positions is expected to grow 16 percent from 2020 to 2030. This is way faster than the average for all occupations. As a result, the medical sector will be the number one employer around the world due to the COVID-19 pandemic, an aging population causing a greater demand for healthcare services, and tech innovations improving the healthcare system.
With that said, certain opportunities for specific positions will remain competitive. Due to the fact that is too expensive for a hospital to keep many specialists in the same field, they usually keep one or two specialists that work alongside residents to provide a specific healthcare service. In addition, specialized fields often call for extra certifications. Therefore, students should remember that when it comes to getting licensed for their position.
7. Impact on your family and personal life
Most medical professionals have a stressful, busy, and hectic lifestyle and will likely suffer from work overload at some point. From doctors being on-call at all hours of the day to nurses, surgical technologists, and surgeons preparing and carrying out operations, to even health technicians who have the job of ensuring medical equipment is accurate, the lifestyle of a medical professional is not without challenges.
To pursue a career in this field, you must accept the realities and the negative side of it. This could mean irregular working schedules that could include weekends or nightshifts. As a result, before choosing a healthcare occupation you should consider what you would like your personal life to be like as a healthcare professional in ten years and compare it with other professions.
The lives of your loved ones will also be affected. You will not have as much time as you wanted to spend with your family. Are you willing to work long hours, on weekends, and even on holidays? Would you be okay missing family reunions, weddings, and other important moments? These are all factors that you must consider before you invest your money and time in any healthcare program.
8. The most suitable healthcare career for you
Does a student's personality fit matter? In medicine, it can make an important difference. This is because a student's personality, interests, goals, and values will mold the kind of profession they decide to pursue.
Students who are hardworking, compassionate, and analytical usually make the best candidates. Healthcare is a person-oriented career. Therefore, it is important that students can control their temper, deliver news in an empathetic way, and speak professionally and accurately with colleagues. By understanding their personality, a student will be able to determine whether a health profession is a right for them.
9. How can Connect Health help you?
If you are a healthcare worker looking for a job in the UAE, here at Connect Health, we can assist you with the process of finding your ideal job. You can sign up for free on our webpage and apply for medical positions. Before applying for any position, read the job description and requirements first.
On the other hand, if you are a healthcare provider looking for a healthcare worker, we can help you find the perfect employee for your facility. We have a wide database of healthcare workers where you can look for the perfect candidate for your business. You also have the option to post a job opening on our webpage.
Would you like to contact Connect Health to obtain more information about healthcare job opportunities in the UAE? Do not hesitate to contact us. Feel free to call us at +971 43 316 688 or send us an email at info@connecthealth.ae to speak with one of our representatives who will assist you shortly.
In addition, you can visit thetalentpoint.com to apply for different job positions. Any information sent to contact@thetalentpoint.com will not be stored.